Innovative & Reliable Bathroom Designers on Cape Cod
Count on expert designers at our state-of-the-art showroom to help you find the most suitable solution for your upcoming remodel. Explore our offerings, see and feel the materials, and make informed decisions to enhance your bathroom the way you've always wanted.
Schedule a Free Design Consultation
Our innovative methods take bathroom design to the next level
---
You, your family, and your home deserve the bathroom of your dreams. We're here to help you revamp your aging bathroom and create one that will last for years to come.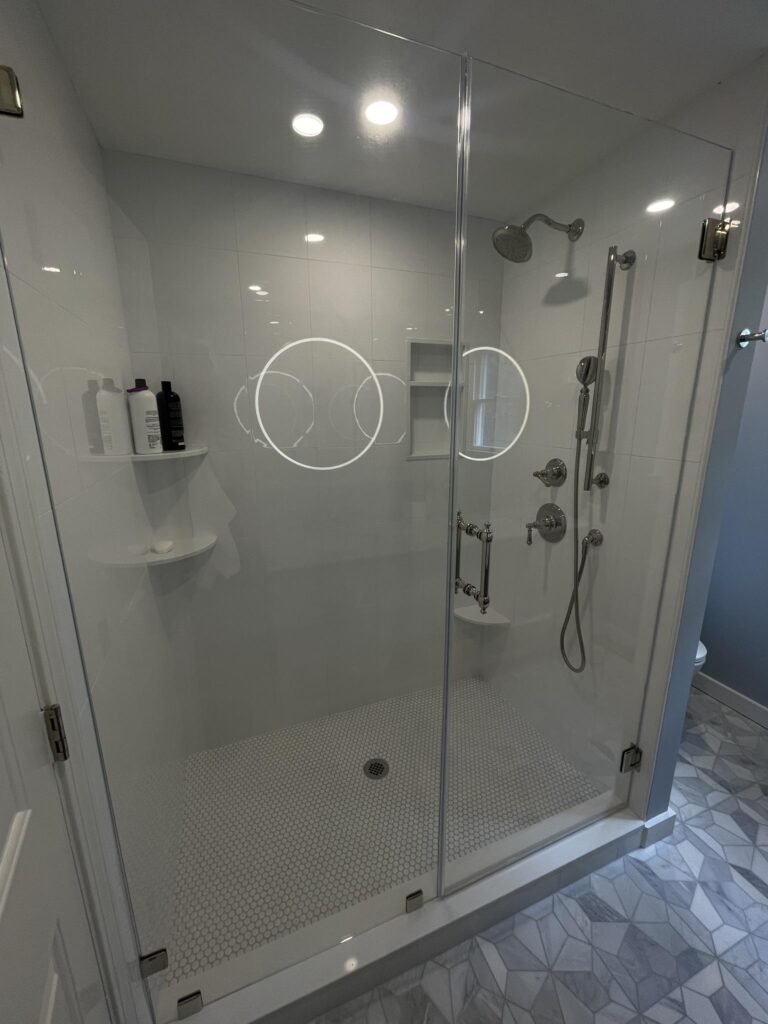 Find a style that reflects your way of living
Tell us your idea and we'll bring it to life
Remodeling is a sizable long-term investment, which makes selecting the right components for your home improvement project an absolute necessity. As a team that puts the needs of its clients first, we're here to help you make the informed choice that will keep you content for years to come. At our showroom, you'll find a vast selection of premier-quality materials and bathroom elements in a wide range of colors and patterns. You can combine to your liking until you form an idea of how your bathroom should look.
Our team is why our bathroom design showroom on Cape Cod stands out
Once you form a fundamental concept of your new bathroom, our expert designers will work with you to crystalize the idea and bring it to life. We'll recommend the best choice of high-end components, from tiles to fixtures to vanities to cabinetry, that fit your initial concept to the detail. Finally, based on your input, we'll put all our collective knowledge and skills to good use to elevate the final product to the top level of functionality and aesthetic appeal, to your content.
Initial Consultation
Talk to our experienced designers and tell them your ideas, needs, and preferences.
Meticulous Planning
Based on your input, our experts will create several customized solutions that you can choose from.
Detailed Construction
Our knowledge and proven methodology will help bring your vision of a perfect bathroom to life.
Have a look at some of our recent projects
Pay our showroom a visit today!
Evening hours by appointment only
394 Main Street Unit 2 West Dennis, MA 02670
We are conveniently located across from Christmas Tree in West Dennis
(508) 619 6130
Schedule a Free Design Consultation
Frequently Asked Questions
What are the current bathroom trends on Cape Cod?
When it comes to bathroom designs on Cape Cod, Classic and Traditional styles, along with Nautical Accents remain an ever-popular choice throughout the Peninsula. However, recently, trends are shifting toward natural and sustainable materials, soft and soothing colors but, also, textured tiles and double vanities that maximize the aesthetic appeal, with the ladder adding to the functionality, too.
What are the things to consider when designing a bathroom?
Key factors to consider in order to create a functional and aesthetically pleasing bathroom include:
Layout: You want to utilize the space for maximum potential;
Ventilation: Good ventilation will prevent moisture damage and mold growth;
Tiling and flooring: Prioritize durability, ease of maintenance, and slip-resistance;
Fixtures and fittings: They add to the looks and functionality;
Storage: Vanities with drawers, cabinets, and/or shelves will vastly improve the aesthetics and functionality;
Lighting: Nn essential factor to creating an inviting and good-looking space.
Taking all these aspects into account can be overwhelming, which is why you should always work with a professional designer or contractor to ensure that the design is functional, efficient, and meets all building codes and regulations.
What size floor tile looks best in a small bathroom?
The two most popular choices for a small bathroom on Cape Cod are:
Mosaic tiles, as these can accentuate and bring out the details, therefore making the space more visually interesting and appealing;
Large-format tiles (12"x12" or 16"x16") in a lighter color, as they reflect the light better and make the space feel larger.
Which bathroom upgrades add the most value to a home?
In general, upgrades that add the most value during a bathroom remodel and redesign are:
Luxury items, such as a jacuzzi, heated floors, or high-end vanities;
Switching to contemporary tiles and flooring designs;
Updating fixtures and finishes with modern variants;
Adding more storage space, in the form of cabinetry;
Improving the lighting.
However, before you head into bathroom remodeling, bear in mind that the value of specific upgrades will largely depend on the local housing market, the age and condition of the home, and the targeted market for potential buyers.
Where can I find the best bathroom showroom near me on Cape Cod?